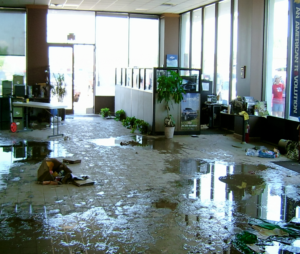 Water Damage Restoration by AquaTex has been helping families and businesses in Richardson recover from disasters for more than four decades. Relieve, Repair, and Renew is our approach to tackling fire, water, and storm damage in residential and commercial properties, as well as environmental quality hazards within existing homes with our three-pronged approach of relieving, repairing, and renewing.
In our family-owned and operated company, we are dedicated to instilling family values in our employees, so we are committed to offering care and compassion to our customers in the face of life-changing incidents.
Think of us as your personal Red Cross team.
As the second component of the AquaTex Water Damage Restoration process, AquaTex offers a turnkey approach to fixing water damage. As a result of our company's efforts, we can relieve our customers from the burden of dealing with insurance companies, inspectors, adjusters, as well as ensure that the damage is repaired by our construction team. It would be great for you to work and focus on your family while we handle the complicated and often frustrating details of getting you back into your home or business as soon as possible.
Lastly, AquaTex Water Damage Restoration restores the lives of our customers back to the condition they were in before the loss. The preservation of precious family heirlooms, sentimental photographs, and memorabilia is also one of our main concerns when it comes to residential settings. We focus on preserving business records and equipment for commercial businesses that are vital to the operation of their business.
AquaTex Water Damage Restoration remains available 24 hours a day, 7 days a week, to dispatch our technicians and fleet of clean-up and recovery equipment. If you have a list of emergency contacts, please add our phone number to the list.
Services
Flooding and water damage restoration
Fire damage restoration and smoke deodorization
Contents salvage, restoration, and decontamination
Reconstruction and remodel
Industrial disaster recovery and cleanup
Industrial property reconstruction and re-purposing
Large loss and disaster minimization and recovery
Fire & Water Damage Restoration Services
As a family-owned and operated business that has been in business for decades, AquaTex Water Damage Restoration has always been committed to doing the job right the first time and every time. Providing the best possible service to our clients is the result of our honest, trained, and certified professionals, who are committed to providing excellent service to each and every one of them. In the event of a disaster, we care about our customers and do everything within our power to assist them. We understand our customers' feelings and the needs they have during times of crisis and are here to help our customers in any way we can. Get in touch with one of our service professionals today to find out what we can do for you.
Commercial & Residential Restoration
It is our objective at AquaTex Water Damage Restoration to continuously improve the value of our services in order to ensure we are providing our clients with the best service possible. The On-Site Estimates that we offer for our services include a full range of restoration services, air sealing, insulation, and energy services with 24/7 Emergency Services available for our customers.
Water Damage Restoration
Storm & Flood Damage Restoration
Fire Damage Restoration
Smoke Damage Restoration
Disaster Cleanup
Mold Remediation
Restoration Process
Water Extraction and Structural Drying
Smoke and Soot Removal
Catastrophe Recovery and Reconstruction
Post-Construction Detail Clean-Up
It is our goal to combine state-of-the-art equipment and techniques with the highest level of care that is second to none. When it comes to completing a job, we do it right the first time, and we stand behind every job we do from start to finish.
Immediate 24/7 Response in Richardson
We'll dispatch one of our restoration specialists to your home or business as soon as you call AquaTex Water Damage Restoration's 24/7 Emergency Hotline. In the event that your property has been damaged or destroyed by fire, storm, and/or water, we will put together a plan to rescue and restore it. In order to get your business or home back to normal as quickly as possible, we will then streamline the remaining restoration process.
If you would like to speak with one of our Certified Restoration Specialists, please call us now. Your call will be answered as soon as possible by one of our representatives.